I read anything and everything, from picture books through to books about economics, but for most of my life my favourite genre was crime fiction. I used to read half a dozen detective stories every week and I never, ever guessed whodunnit. In fact, when I met crime writer extraordinaire Kerry Greenwood on the Women Writers Train in 1991, she asked me whether I'd ever thought of writing detective stories myself and I shuddered and told her that if I knew how they were constructed, it would spoil my pleasure in reading them.
But then Jennifer Rowe, the editor of my first novel and another brilliant crime writer, asked me whether I'd be interested in writing two of the characters in the gang of junior detectives that features in her Teen Power Inc. series, working from her synopses. I'd always wanted to be a ghostwriter, so I said yes … and, inevitably, Jenny's elegantly economical plot outlines taught me a lot about how to craft a detective story. A few years later, I was planning my own crime series, with Kerry's assistance, and the ten books of the Blake Mysteries were followed by three Just and Uncle Mysteries and a standalone called The Family of the Dead – and, sadly, I can't read crime novels for my own entertainment any more.
Here is a selection of my crime novels for kids. If you want to read them, click on the download links under the cover pictures. You can download them in pdf, epub, or mobi (Kindle) format.
NB: I haven't rewritten or updated any of these stories but I did change some sentences here and there while I was proofreading the ebooks, to make the words flow more smoothly or to get rid of some unfashionable adjectives and adverbs. So, if you want to quote any of the books as they were originally published, for academic purposes or whatever, you'll need to track down a print copy: sorry about that.
The Family of the Dead
In the Blake Mysteries and the Just and Uncle Mysteries, my detectives uncover secrets and solve crimes but apart from the sixth book in the Blake series, With the Lot, the crime they're dealing with is never murder. In contrast, The Family of the Dead is all about dead bodies, because it's based on my friend Hugo Selleck's work experience at the Melbourne Forensics Unit. I wanted to write about the unit, partly because Hugo analysed and described his experience so brilliantly and partly because at the time there were a lot of forensics-based crime novels and TV series around and I didn't really get them. In the novel, Harris's mother says early on, 'I'm just not sure it's healthy to keep thinking about all those horrible, depressing things' and the rest of the book is Harris's answer – as well as my attempt to figure out what it means to be part of the family of the dead. (The book was published as Crime Seen by Lothian but for this ebook, I've returned to its original title, The Family of the Dead, which came from a brainstorming session by Hugo, Nancy Peck and me.)
The Just and Uncle Mysteries
 I think life's a funny business, so I hope all my novels make their readers smile at some point, but my only full-on comic novels are the Just and Uncle mysteries. Justine lives with her uncle and the two of them are a classic odd couple. Just is practical, acerbic and the definition of an ordinary person (in a good way). Uncle writes 'tough guy' detective stories, although he isn't exactly tough himself, and has an unquenchable ability to muddle through. Together, they solve three of the silliest crimes on record – the kidnapping of a Blondie doll (Looking for Blondie), an ostrich fraud (Scam) and a robbery at a murder mystery weekend (Death by Water). Two young girls once asked a writer friend of mine, who was visiting their school, whether Uncle was based on me. They must have been good detectives themselves: in my experience, people are usually fooled by a change of gender but they were quite right.
The Just and Uncle Mysteries 1: Looking for Blondie
The Just and Uncle Mysteries 2: Scam
The Just and Uncle Mysteries 3: Death by Water
The Blake Mysteries
 Blake is young, tough and on the run. In the first book, Time to Go, she establishes the two principles that will drive her through the rest of the series, saying, "I hate it when bad things happen to kids. Adults can look after themselves but kids – that's different" and "I hate mysteries, so I can't help trying to solve them." Each book is a self-contained mystery but there are also some mysteries about Blake herself that gradually emerge in the course of the ten books. The Blake series is my tribute to all the kids' books and crime novels that kept me turning the pages at top speed and their page turner effect still works on me, even though I wrote them.
The Blake Mysteries have a serious side as well. I see the series as a portrait of Australia at the turn of the century. In each book, I deal with various elements of Australian society – street kids and the end of the old factory system (Time to Go); bushfires, hotels and artists' colonies (Wall of Fire); the internet, computer start-ups and child molesters (One Way Street); gifted children, backpackers and company takeovers (House of Shadows); country towns, tourism, privatising essential industries and lost boys (Over the Hills); fast food, the building industry, codes of masculinity and bullying (With the Lot); pop stars, the drug trade, graffiti and old sf movies (Down and Out); indigenous people, land rights and racism (On the Edge); retirement cities, anti-pollution campaigns, homophobia and youth suicide (Truth or Dare); and criminal families, ESP and robots (Fly Away Home). Then the narrative arc of the whole series draws all these disparate elements into an overall pattern, focusing on the effect of families and the effect of multinational companies, as test cases for the ways in which human beings interact. It's the closest I'll ever come to publishing a big fat Dickensian novel about the way a whole society works: all my other attempts are still sitting in my bottom drawer.
The Blake Mysteries 1: Time to Go
The Blake Mysteries 2: Wall of Fire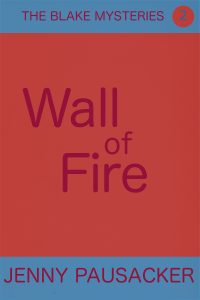 The Blake Mysteries 3: One Way Street
 The Blake Mysteries 4: House of Shadows
 The Blake Mysteries 5: Over the Hills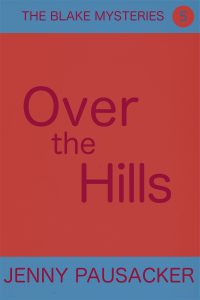 The Blake Mysteries 6: With the Lot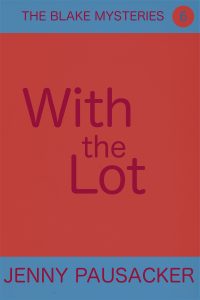 The Blake Mysteries 7: Down and Out
 The Blake Mysteries 8: On the Edge
 The Blake Mysteries 9: Truth or Dare
 The Blake Mysteries 10: Fly Away Home